Cutting Dryer
Cutting dryer of Kosun is a well-known brands in China. It has 25 years of history in solids control.
Cutting dryer is also a kind of centrifuge which is used for solid and liquid
separation through centrifugal separation. Cuttings dryer have been proven to be one of the most effective waste management equipment for oil-based or synthetic drilling operations.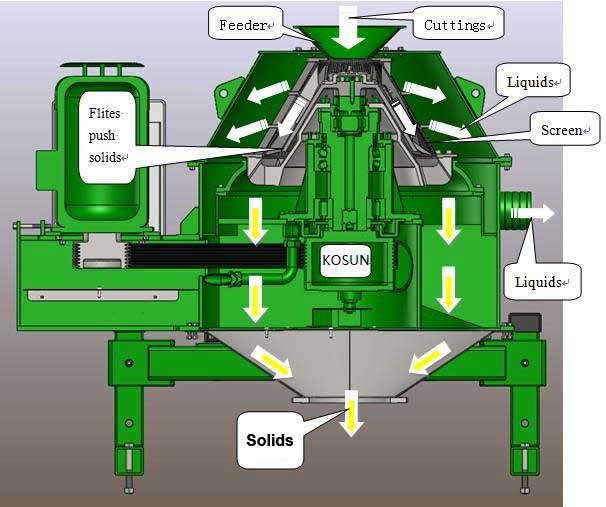 Centrifuge is the use of centrifugal force, separation of liquid and solid particles or liquid and liquid mixture of the components of the mechanical. The centrifuge is mainly used to separate the solid particles in the suspension from the liquid or to separate the two different densities and incompatible liquids (eg, to separate the cream from the milk) in the emulsion;
It can also be used to exclude Wet solids in the liquid, such as washing clothes with wet clothes; special ultra-speed tube separator can also be separated from different density of gas mixture; the use of different density or particle size of solid particles in the liquid settling speed of different characteristics, some settlement The centrifuge can also classify the solid particles by density or particle size.
Why  this centrifuge is so popular?
It contain below reseasons:
1. Highly effective separation liquids/solids
2. Minimizes fluid content of cuttings
3. Decease waste-disposal volumes
4. Meet various operation requirements
5. Ease to maintence.
6. Improved efficiency and lower costs
7. Lowere cost because lower waste volumes.
Vertical cutting dryer of Kosun has more than 25 years old in solid control industry.  Kosun concluded much more experience in drilling waste.
With years marketing experience, KOSUN have been expanded its market globally, and have been established the friendly partnership with GAZPROM, PEMEX, AVA, SOCAR, SAE, etc.
As a leader in China's solid control and drilling waste management industry, Kosun has been highly valued by its local customers for its high quality products and quality service. Branch letter will continue to provide customers with better products and services.