Vertical Cutting Dryer
Vertical cutting dryer can reduce drilling costs and reduce environmental pollution. Processing capacity of 40-60 tons / hour, drilling cutting oil (OOC) after treatment can be reduced to less than 5% (w / w), in line with international emission standards and environmental requirements.
Vertical cutting dryer can improve overall cost-effectiveness and reduce extreme dry chips for handling and recycling valuable fluids for reuse. It is effective for water, oil and synthetic base drilling fluids.
Up to 95% of the drilling fluid can be recovered using vertical dryer from Kosun Industries. A significant reduction in the attraction between liquid and oil results in the distillation of the vertical cutting dryer chip, which can range between 6 wt.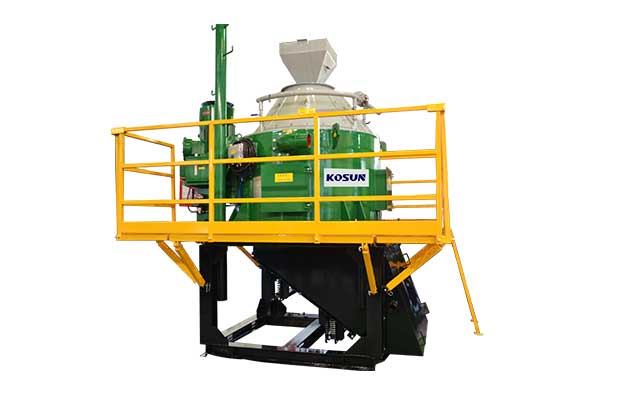 Kosun Industries is aimed to reduce the amount of solid waste in the drilling process and reducing the associated disposal costs. Proper use of the vertical dryer ensures that the customer complies with local environmental regulations and helps recover the base fluid. Kosun Industries has set the industry standard for reducing drill-down fluid discards in sample testing. Reduce waste, dispose of and recycle liquids, and reduce our customers' operating costs.
Vertical cuttings dryer of Kosun Industries features is durable and functional maintenance features to reduce downtime. All standard parts are easily accessible from the top of the unit. The belt can be quickly replaced without removing the drive assembly, and the drive assembly itself can be easily removed.
Environment and cost
1.  Highly efficient liquid / solid separation minimizes chip fluid content
2. Reduce waste disposal
3. Effective separation and recovery of high percentages of fluids can be reused in active sludge systems
4. It is cost-effective to recover the entire slurry lost from mudstone vibrator failure, rig motion and screen blockage.
Features and Advantages of Cutting Dryers
1.Reasonable structure
2.long lasting
3.Easy to maintain
4.Reliable lubrication
5. Save greater energies
6.Economic and environmental protection
With many years of experience in the market, the company has been in the global market expansion, and GAZPROM, PEMEX, AVA, SOCAR, SAE, such as the establishment of friendly and cooperative relations.
From drilling solids control to drilling waste management, Kosun has the equipment and personnel to perform this work efficiently and efficiently, as well as the growing environmental problems. Kosun works with a number of professional organizations to ensure effective and accurate results in the field of environmental protection.
Vertical Cutting Dryer for Sale is Ideal Chosen From Kosun Manufactures.Vertical cutting dryer of Kosun at home and abroad and got well recognized by clients.