Recently, KOSUN successfully supplied a set of processing system for efficient cleaning of coal slime and slag for Shaanxi Coal Group, and sent it to the customer's project site to complete the installation and commissioning. This system adopts a modular design concept, which is divided into a sedimentation tank cleaning and dehydration transfer module and a coal slag dehydration transfer module, which can be flexibly increased or decreased function module according to site needs.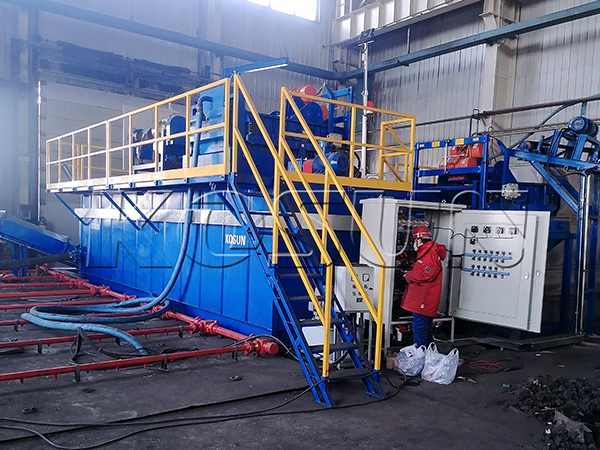 KOSUN sedimentation tank slime treatment system effectively solves the problems of high solid content in the clear liquid in the sedimentation tank, difficult sewage treatment and high cost; cumbersome coal slime excavation and stacking process in the sedimentation tank, and time-consuming and laborious processing. The solid-phase moisture content after being treated by the KOSUN sedimentation tank slime system is less than 50%, which reduces the stacking volume and floor area, ensures that ordinary muck trucks do not cause secondary pollution when they are transported out, and reduces the amount of liquid entering the sewage treatment station. The total amount and solid content of the phase can be reduced, and the cost of liquid phase treatment can be reduced, not only can the coal slime originally discharged as waste be recycled, but also meet the requirements of national environmental protection and industry standards, and achieve the dual effect of improving economic benefits and environmental protection.
KOSUN has always provided you with solid-liquid separation solutions in the solid waste treatment industry. Customers are welcome to call for consultation!
KOSUN- China Solids Control Leader&Drilling Waste Management Expert
Email: sales2@adkosun.com
WhatsApp/Wechat:+86 18792396268
Contact person: Lily Wang
Online consulting:
http://www.kosun.com
http://www.kosuneco.com