KOSUN Mud Separation System wear parts are of anti-corrosion and wear-resistance, long service life and low failure rate, and the system can be suitable for various severe working conditions. After the mud or slurry is treated by KOSUN Mud Separation System, the dried solids can be up to the standard of landfilling or carrying away, and the mud can be recycled or the clean liquid is directly discharged.
Features of  KD SERIES Mud Separation System:
-All vibrating motors are provided and powered by U.S.Martin . Ingress protection grade is IP65.
-Use jet nozzle, which can rotates angle within a narrow range, to wash screens, and Y-shaped filter is installed on mud feed pipeline.
– Shale shaker passes ANSYS linear analysis and is designed with multilayer and laminated structure, and the combination of scalping shaker and primary shaker guarantees a high capacity.
-Angle adjustment device of screen box with an adjustable range of -1°~+5° can meet treatment requirements.
– Multi-model composite PU screens are available.
-The most ergonomic design simplifies the operating platform while guaranteeing HSE.
-With the modularized design and strong ductility, the whole system can be set up and combined in the form of modularization. Moreover,every system is designed as per the sizes of international standard container for convenient transportation.
– Hydrocyclones adopt PU and sectional assembly structure, with long service life and simple maintenance. High-efficiency mud purification, desanding and desilting efficiency facilitate.
– Select famous Italian flexible supporting blocks, whose performance is far superior to that of common spring.
 Application of KD SERIES Mud Separation System:
KOSUN Company KD Series Mud Separation System can be applied  in the following projects:
– Piling mud management, piling slurry separetion;
– Pile foundation mud management, pile foundation slurry separetion;
– TBM slurry management, TBM mud separation;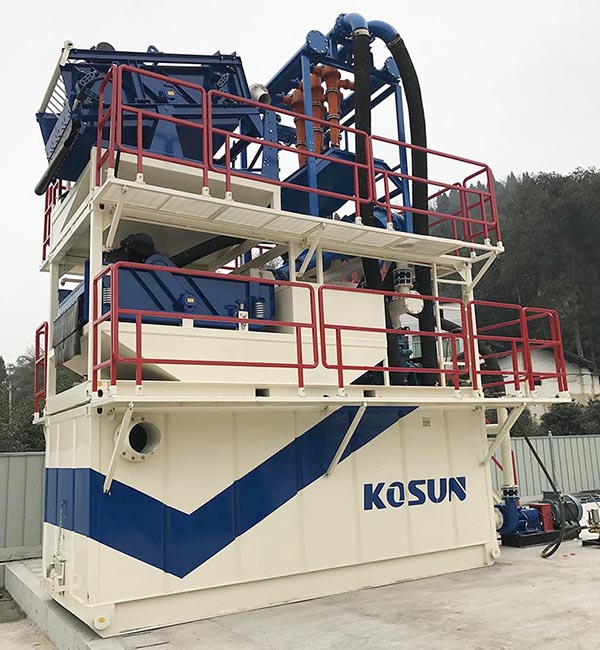 – Pipe jacking slurry management; Pipe jacking slurry separetion;
– Subway mud separation, light rail mud management;
– Railway mud management, high speed railway mud separation;
-Hazardous waste mud management; Hazardous waste slurry separation.
– River dredging slurry management, river dredging mud treatment;
KOSUN is committed to providing customers with one-stop environmental treatment technologies and services in the above fields, thus really realizing energy conservation and emission reduction. (Editor:Kosun Lily.Wang)
Kosun- China Solids Control Leader&Drilling Waste Management Expert
Tel.: +86 29 87304914
Email: sales2@adkosun.com
Contact person: Lily Wang
Online consulting: