As a professional manufacturer of drilling fluid treatment equipment and solids control system, KOSUN has provided equipment and services to major oilfield companies at home and abroad since 1992. Recently, PetroChina's Sichuan shale gas operation area ordered 120 Mud Agitator Systems again. According to the customer's on-site working conditions and requirements, we customized and added a portable oil discharge device for the customer, which greatly reduced the workload of on-site operators. The service life of the reducer is guaranteed.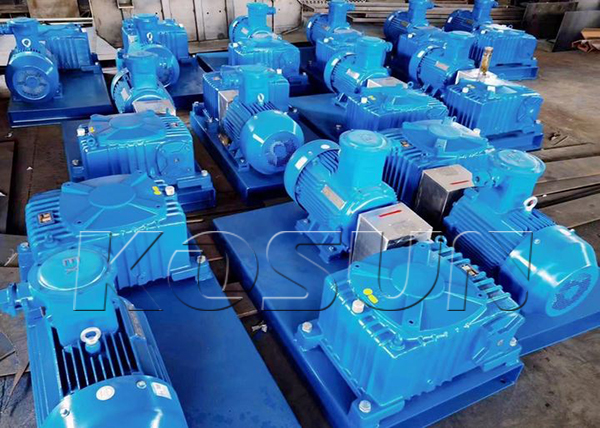 The drilling fluid agitator is one of the main equipments in the oil drilling fluid solids control system and the horizontal directional crossing mud purification system. It is mainly used for the stirring and mixing of the drilling fluid. The uniformity of the drilling fluid and the suspension of solid phase particles to prevent the sedimentation of the solid phase particles of the drilling fluid in its tank circulation system, the mud agitator accelerates the reaction and dissolution of drilling fluid materials (bentonite, barite) and chemical additives and wetting plays a very important role.
KOSUN will wholeheartedly provide you with high-quality solids control equipment products and professional customized solutions. You are welcome to inquire!
KOSUN- China Solids Control Leader&Drilling Waste Management Expert
Email: sales2@adkosun.com
WhatsApp/Wechat:+86 18792396268
Contact person: Lily Wang
Online consulting:
http://www.kosun.com
http://www.kosuneco.com