KOSUN MD series efficient mud cleaner is the second and third level solid control equipment in the drilling fluid purification system, which can further separate the smaller solid particles contained in the mud processed by the vibrating screen, so that the mud can enter the four-level separation equipment. The cleaner can be used independently, or its bottom flow vibrating screen can be used as a parallel standby device of the first level solid control vibrating screen.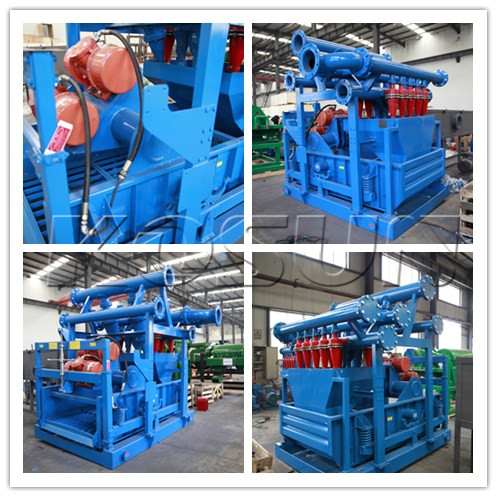 MD series high efficiency mud cleaner features:
1. Desander, desilter, shale shaker three in one, compact structure design;
2. Polyurethane cyclone, delay service life;
3. Detachable cyclone support, which is convenient for customers to convert into spreading and drying machine or desander and desilter;
4. Electric screen box Angle adjustment, convenient and reliable, and mechanical Angle adjustment for standby;
5. Screen box seal patent design, good sealing effect, long service life, and easy to replace;
6. The bottom frame of the screen box is made of stainless steel, which greatly improves the corrosion resistance and service life;
7. The overall heat treatment of the sieve box can work for a long time under high excitation intensity;
8. Plate frame mesh and wedge type screen pressing device facilitate rapid replacement of screen;
9. Adopt international brand vibration motor.