As environment protection requirements on domestic oilfields are becoming more stringent, zero discharge drilling waste projects have skyrocketed since last year.  By virtue of years of experience in overseas drilling waste system equipment, KOSUN has provided complete set of zero discharge drilling waste equipment for major domestic drilling companies and oilfields service companies and it is serving CNPC Sulige Gasfield in Inner Mongolia successfully. The main zero discharge drilling waste equipment is vertical cuttings dryer.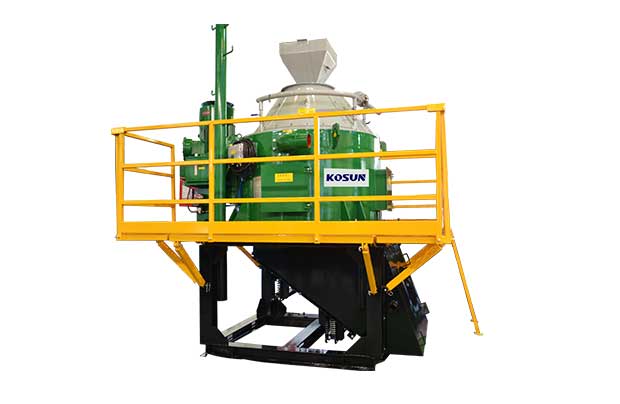 KOSUN making improvements on vertical cuttings dryer:
KOSUN has made some technological improvements on traditional vertical centrifuges to surmount the above-mentioned technical difficulties, such as providing intelligent pulse jet control system and successfully developed KOSUN G2 VC-2000 and G3 MINI VC-800, making KOSUN G2  apply successfully in water-base mud field.
VC-800 series Vertical Centrifuge produced by KOSUN is a type of vertical centrifuge, which can perform solid/liquid separation through centrifugal separation. The vertical cuttings dryer can effectively recover the liquid phase in drilling cuttings, making the solid phase become very dry. It is suitable for water-base mud, oil-base mud and synthetic base mud. By recovering the mud in drilling cuttings, the vertical cuttings dryer can reduce the drilling cost and cut down environmental pollution. With handling capacity of 40-60 T/h, the oil on cuttings (OOC) of drilling cuttings can be reduced to lower than 5% (w/w) after treatment, meeting the international emissions standards and environmental protection requirements. The vertical centrifuge can also be applicable for drilling waste management in onshore and offshore drilling.
Application scope of  KOSUN vertical cuttings dryer:
-Water-base mud cuttings
-Oil-base mud cuttings
-Synthetic-base mud cuttings
Benefits of  KOSUN vertical cuttings dryer:
-Greatly reduce solid discharge volume.
-Effectively retrieve treated liquid for recycling in drilling solids control system.
-Reduce drilling fluid cost and waste management cost.
-Meet field operation requirements on zero discharge of drilling waste.
Treatement effects of vertical cuttings dryer:
For oil-base and synthetic-base mud:water content of solids treated by Vertical Centrifuge is below 6%. For water-base mud:water content of solids treated by vertical cuttings dryer is within 5%~8%.(Editor:Kosun Lily.Wang)